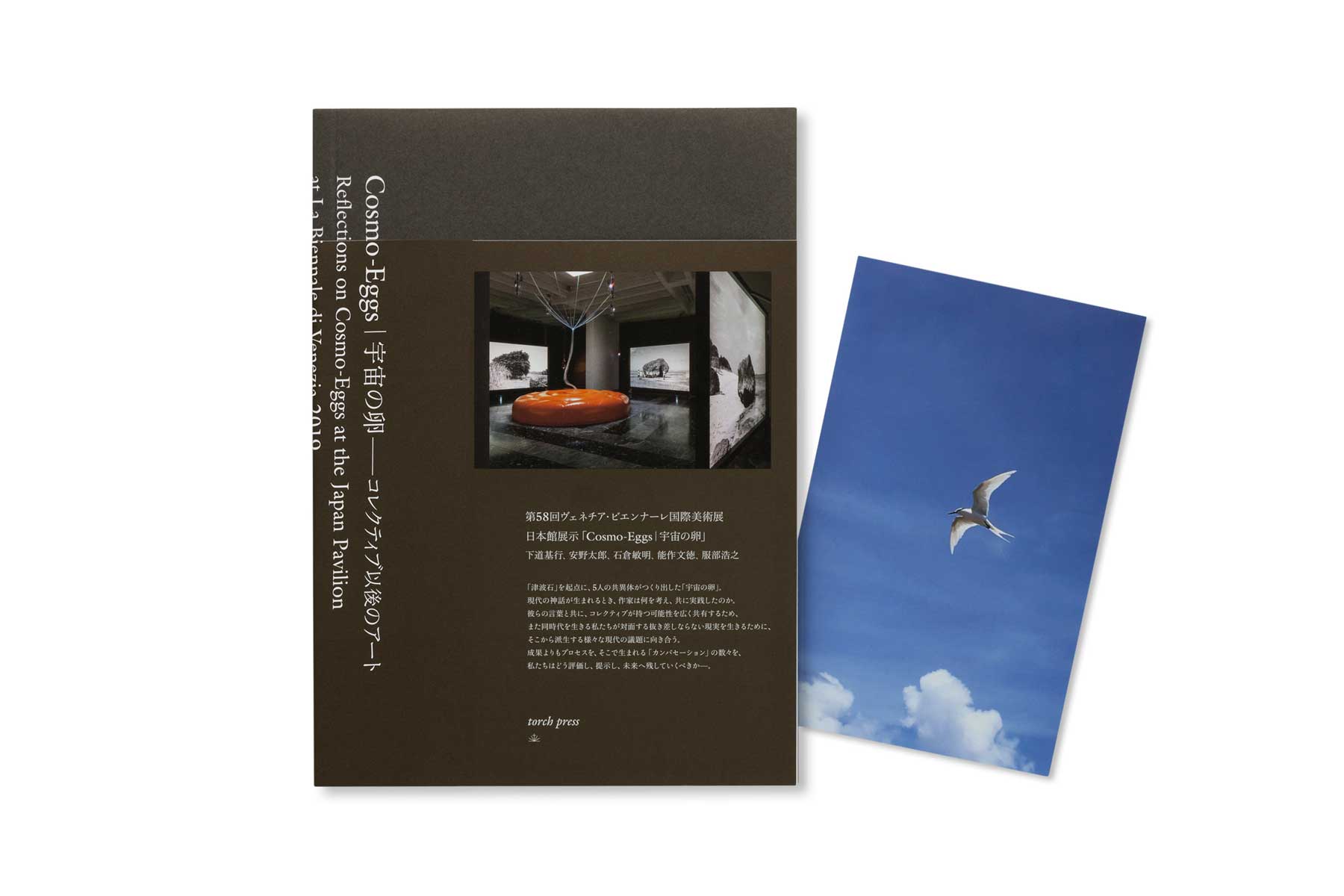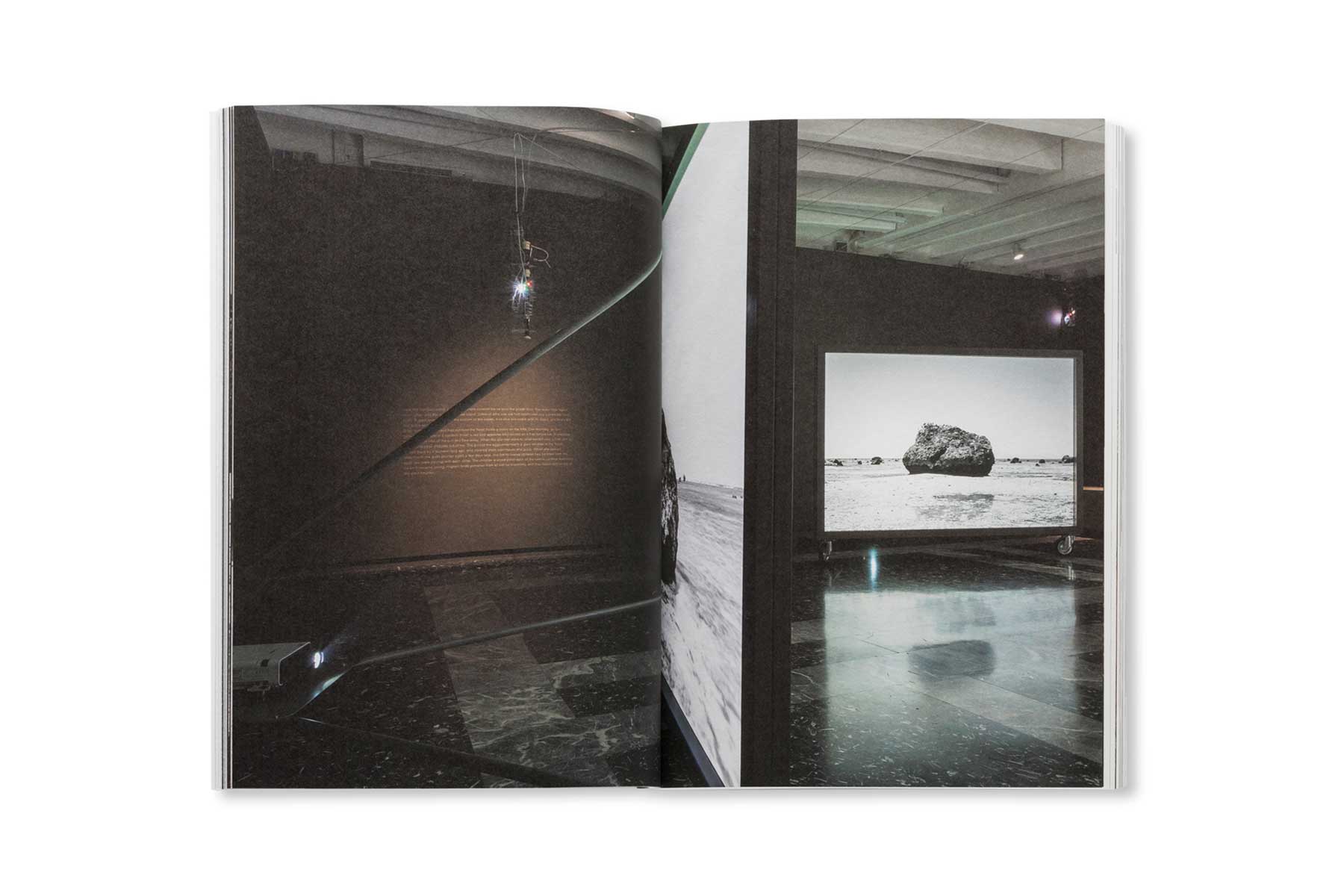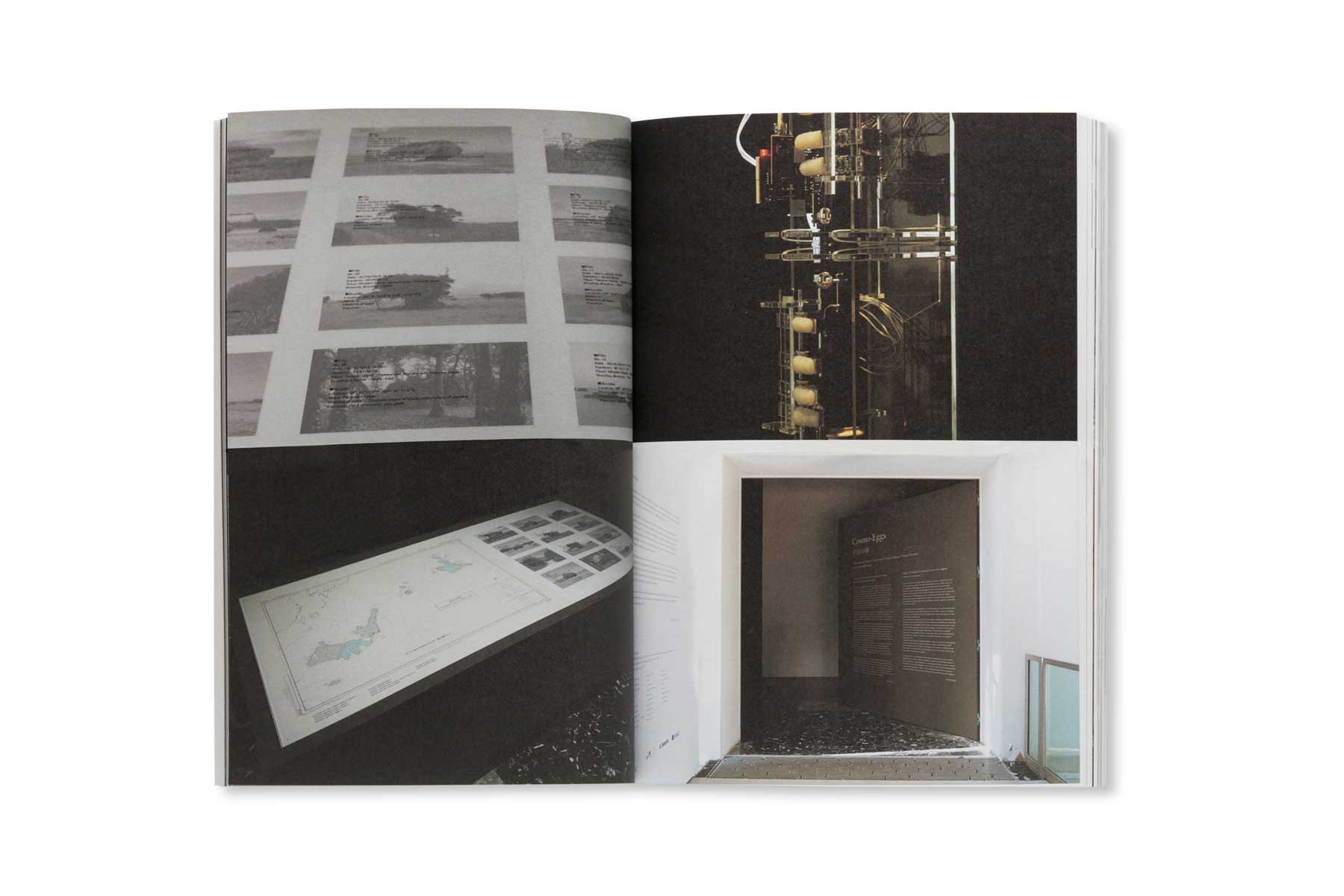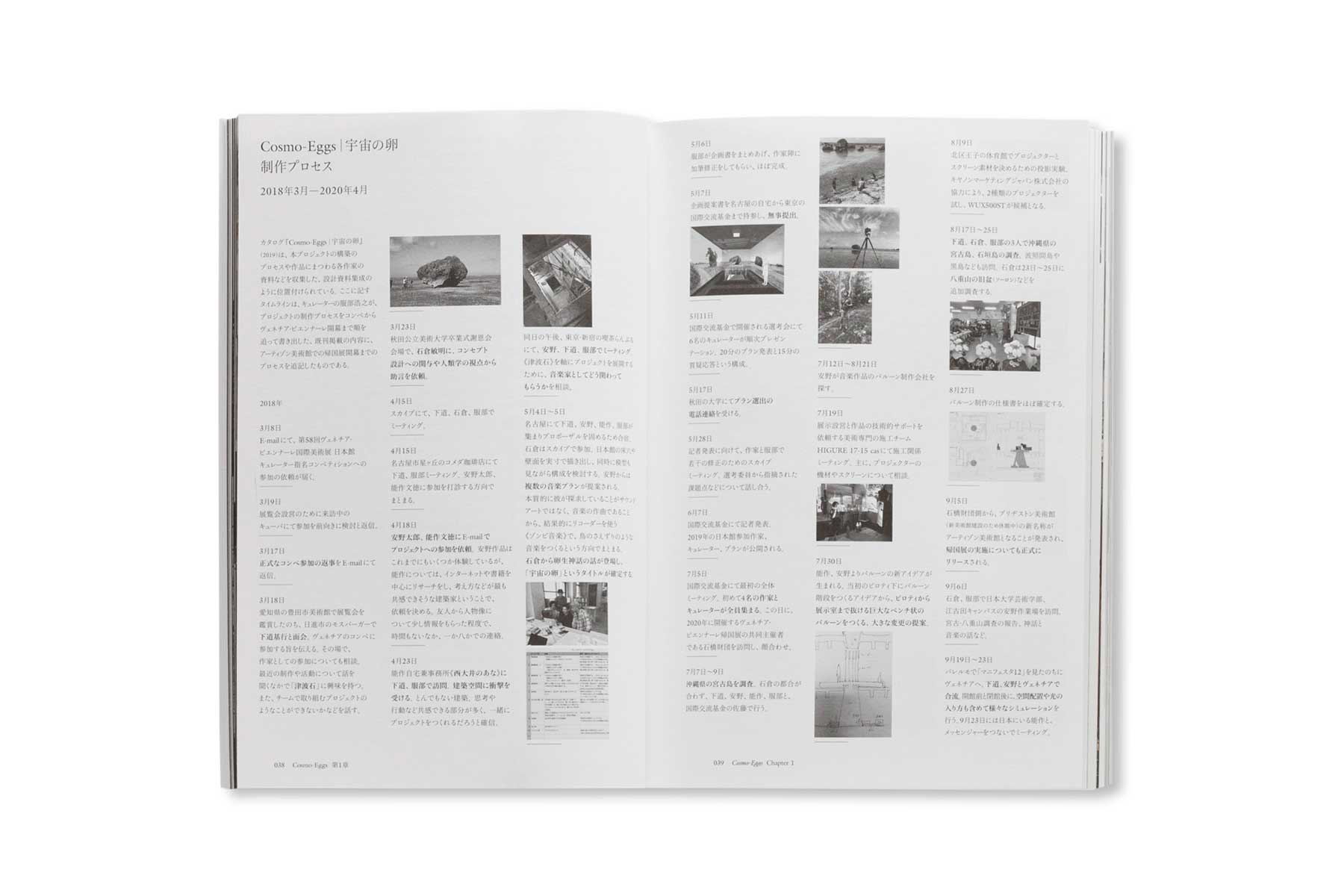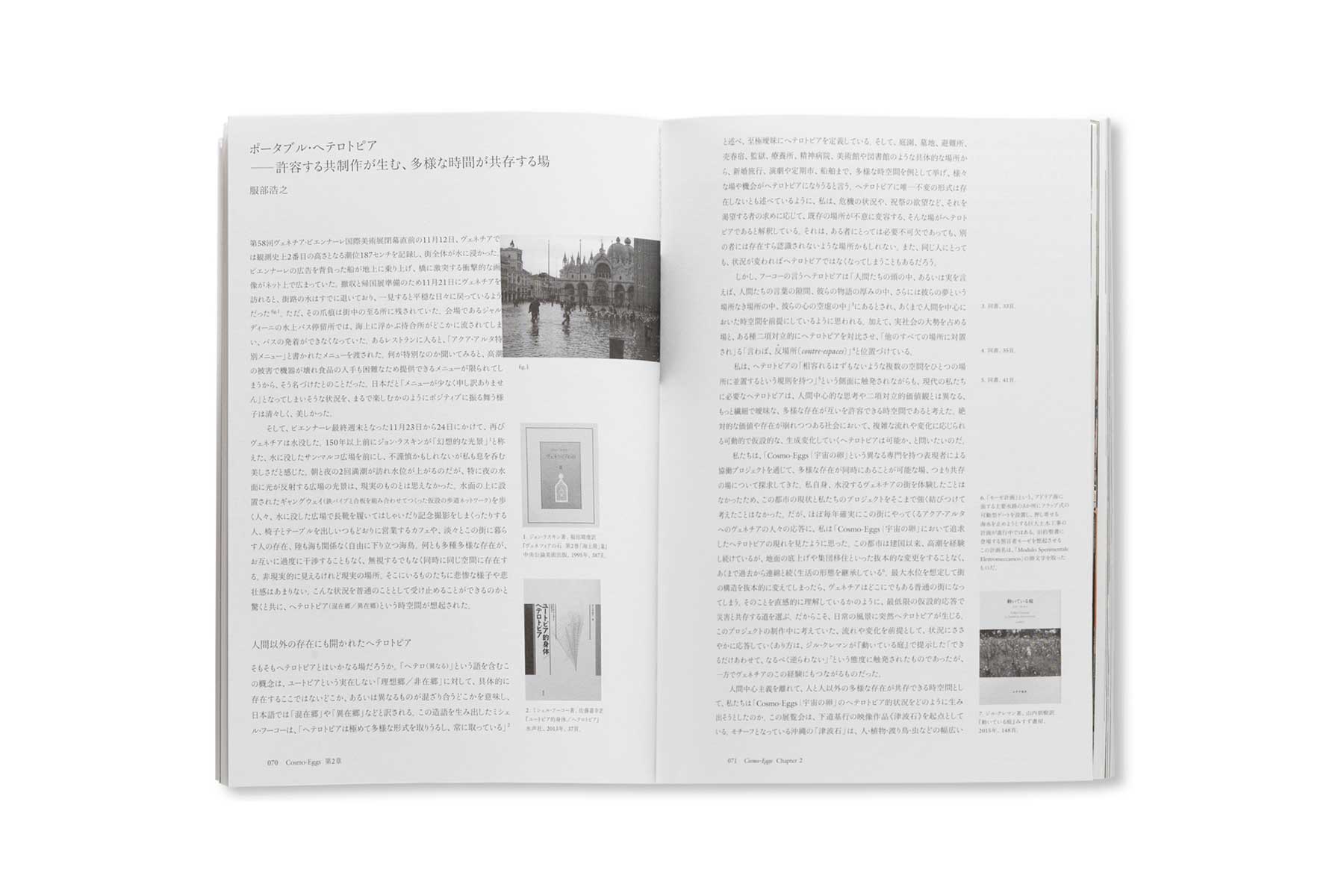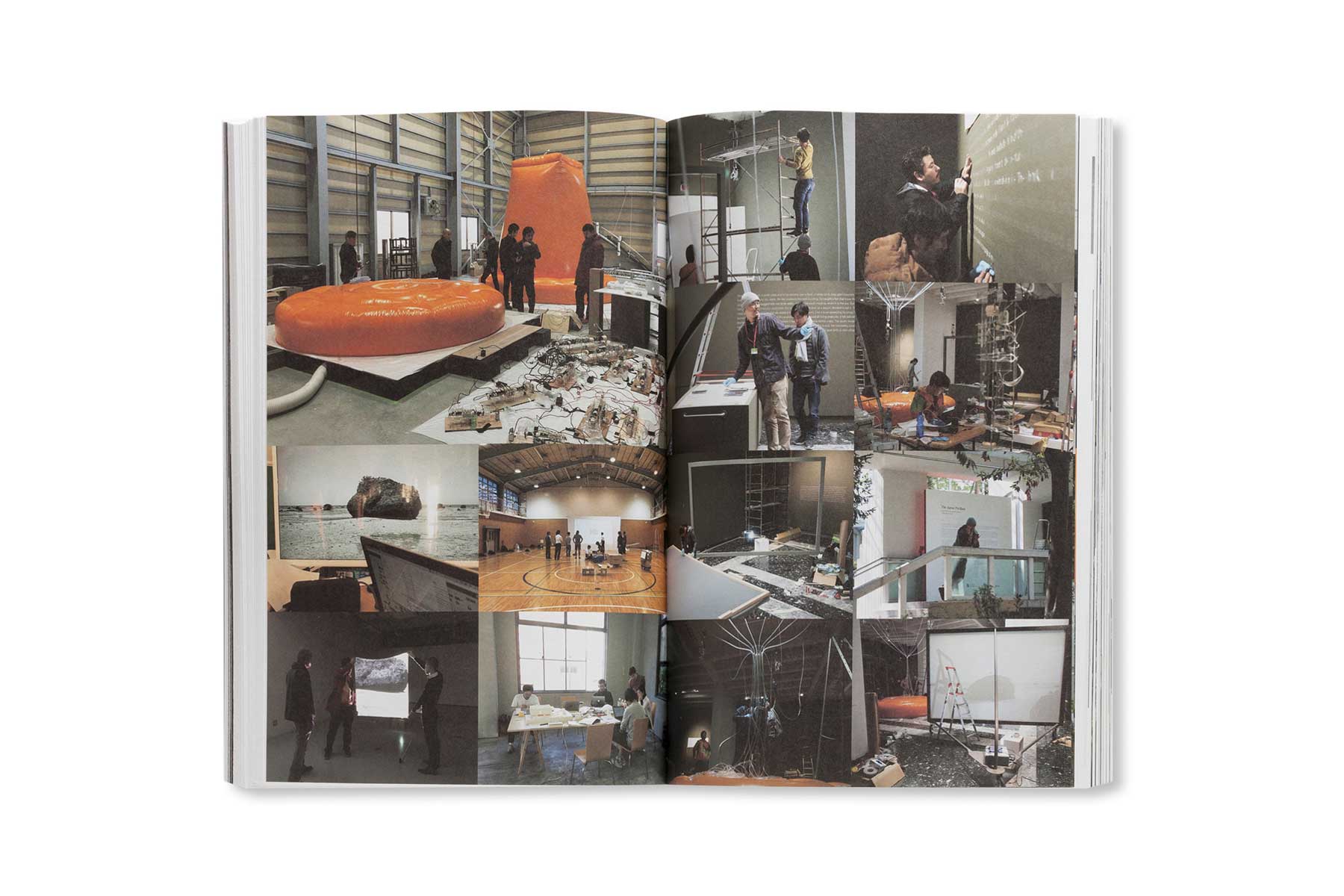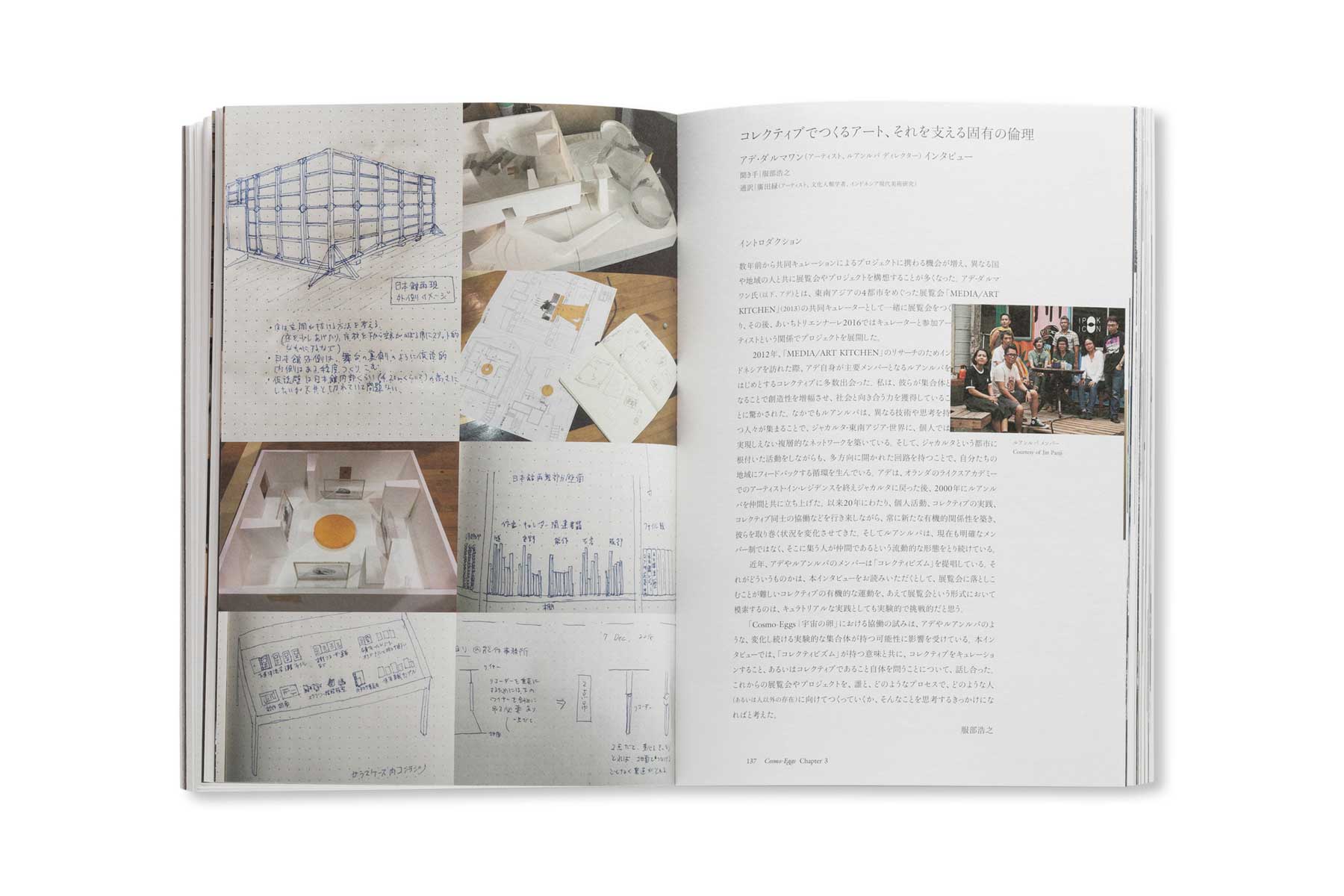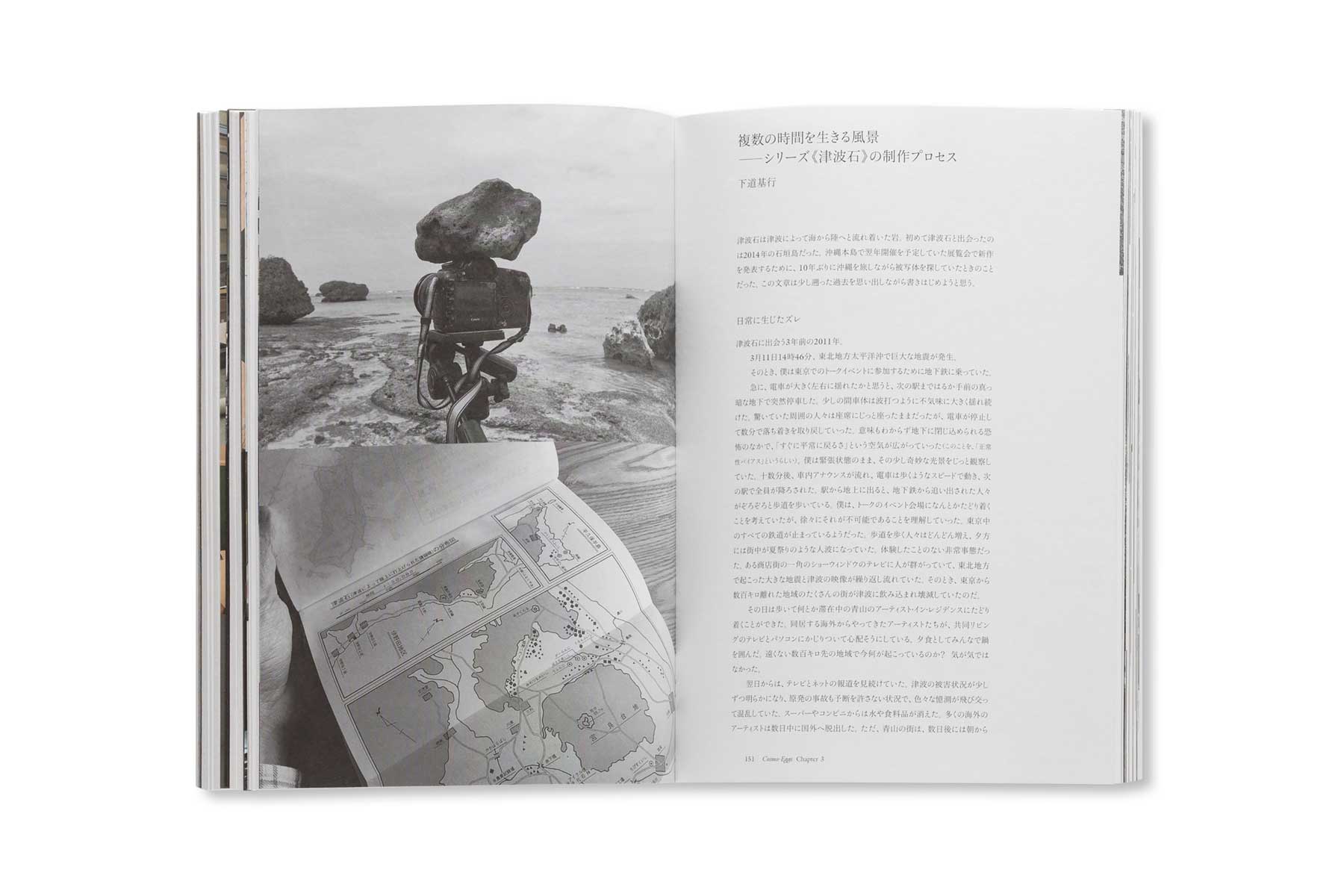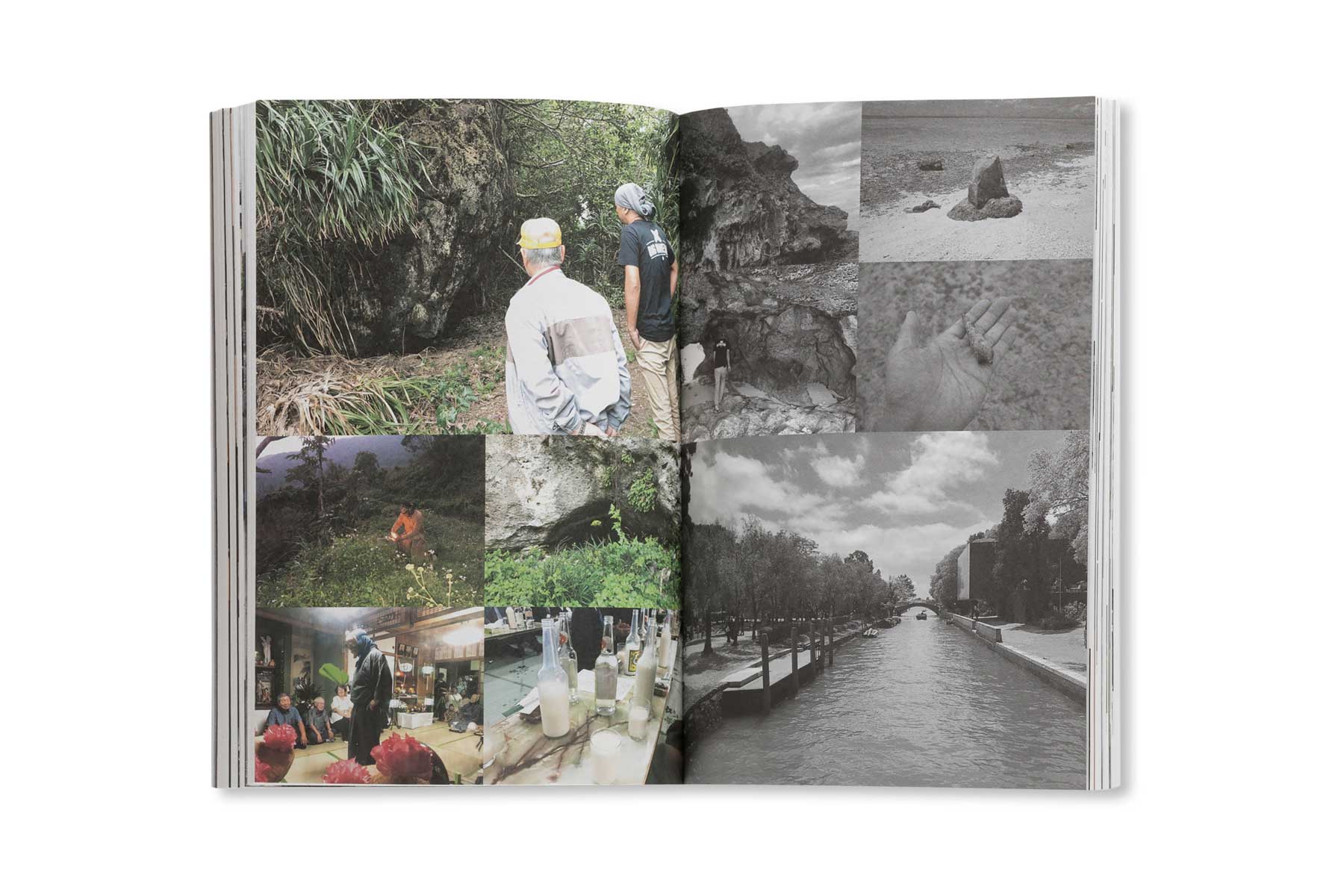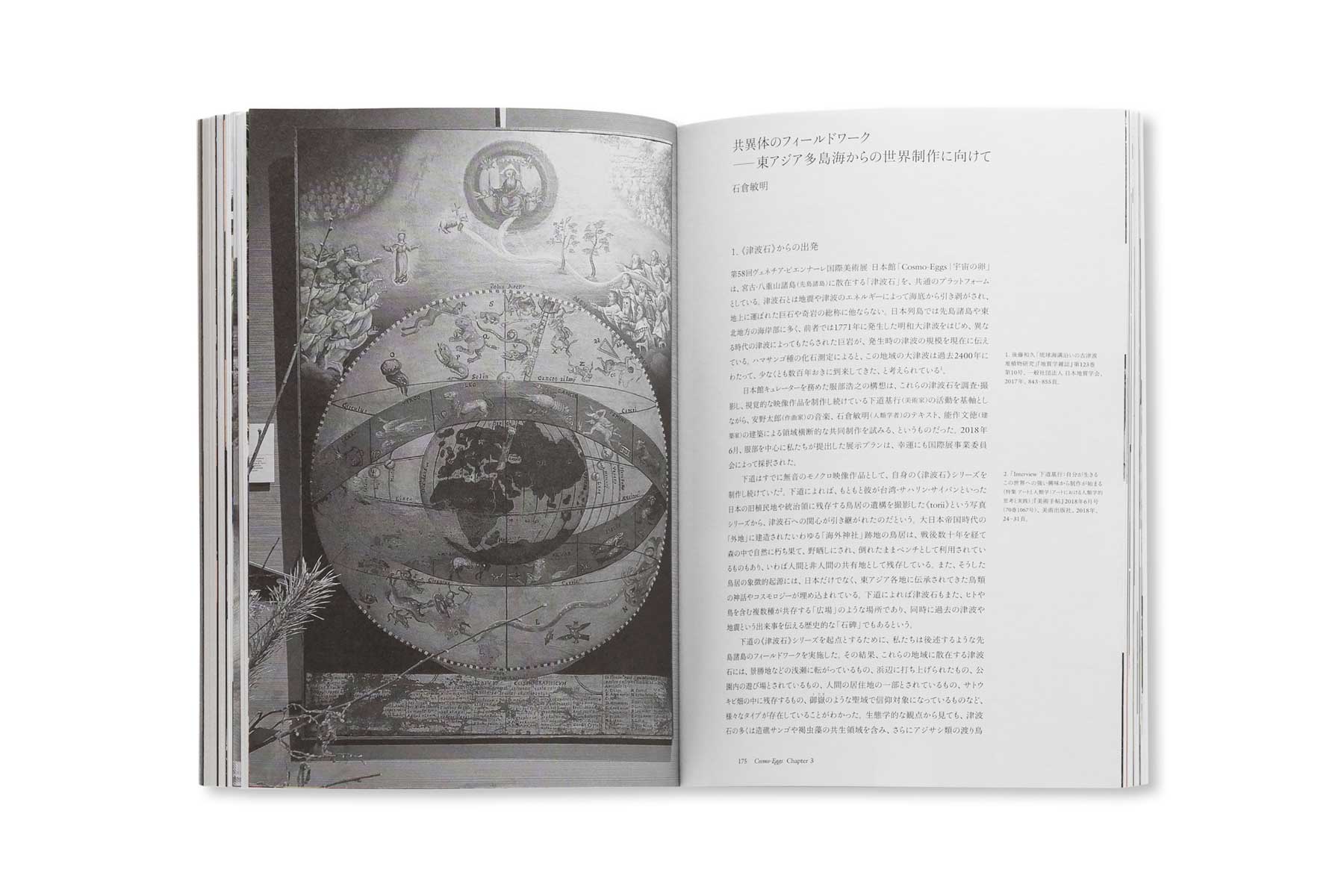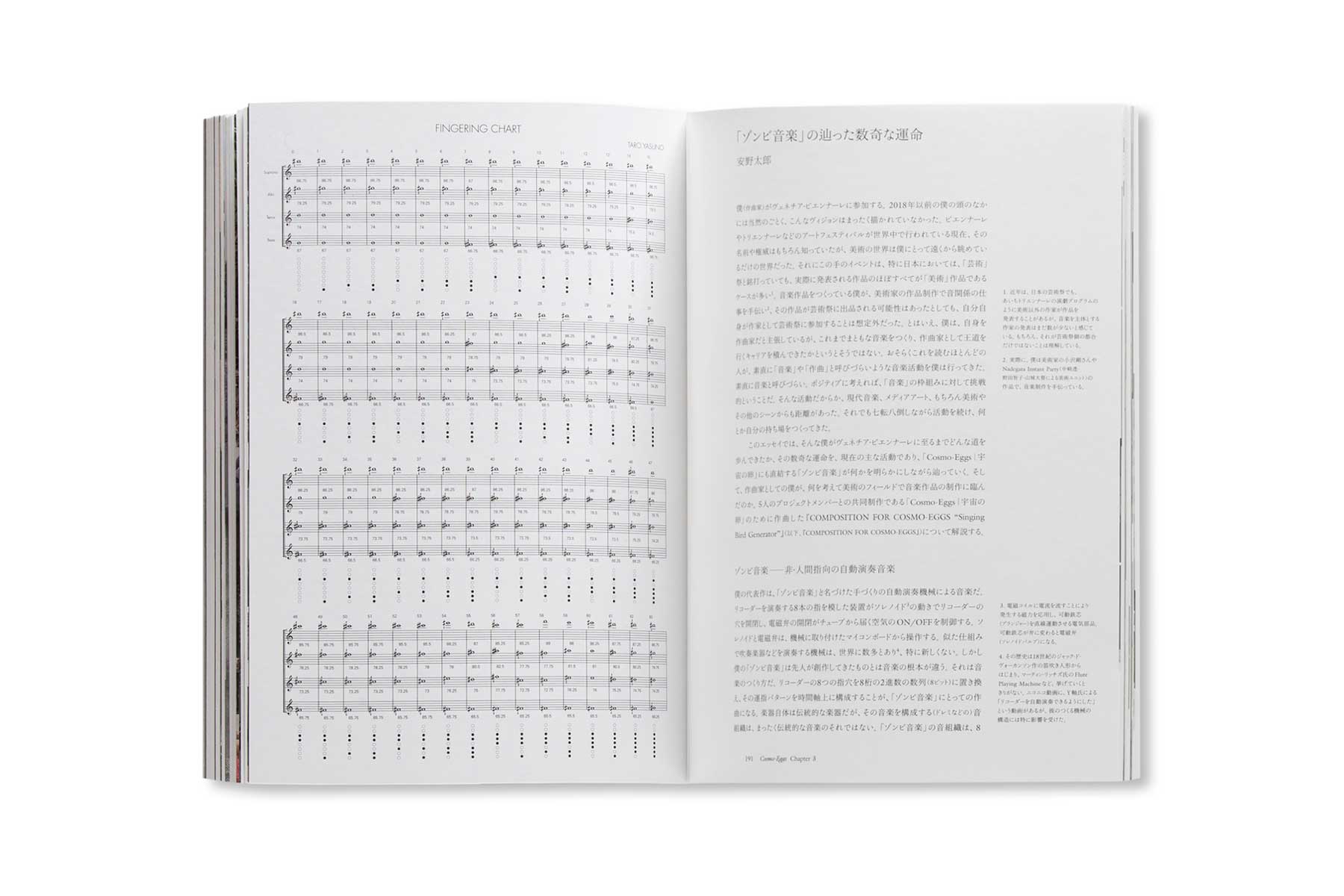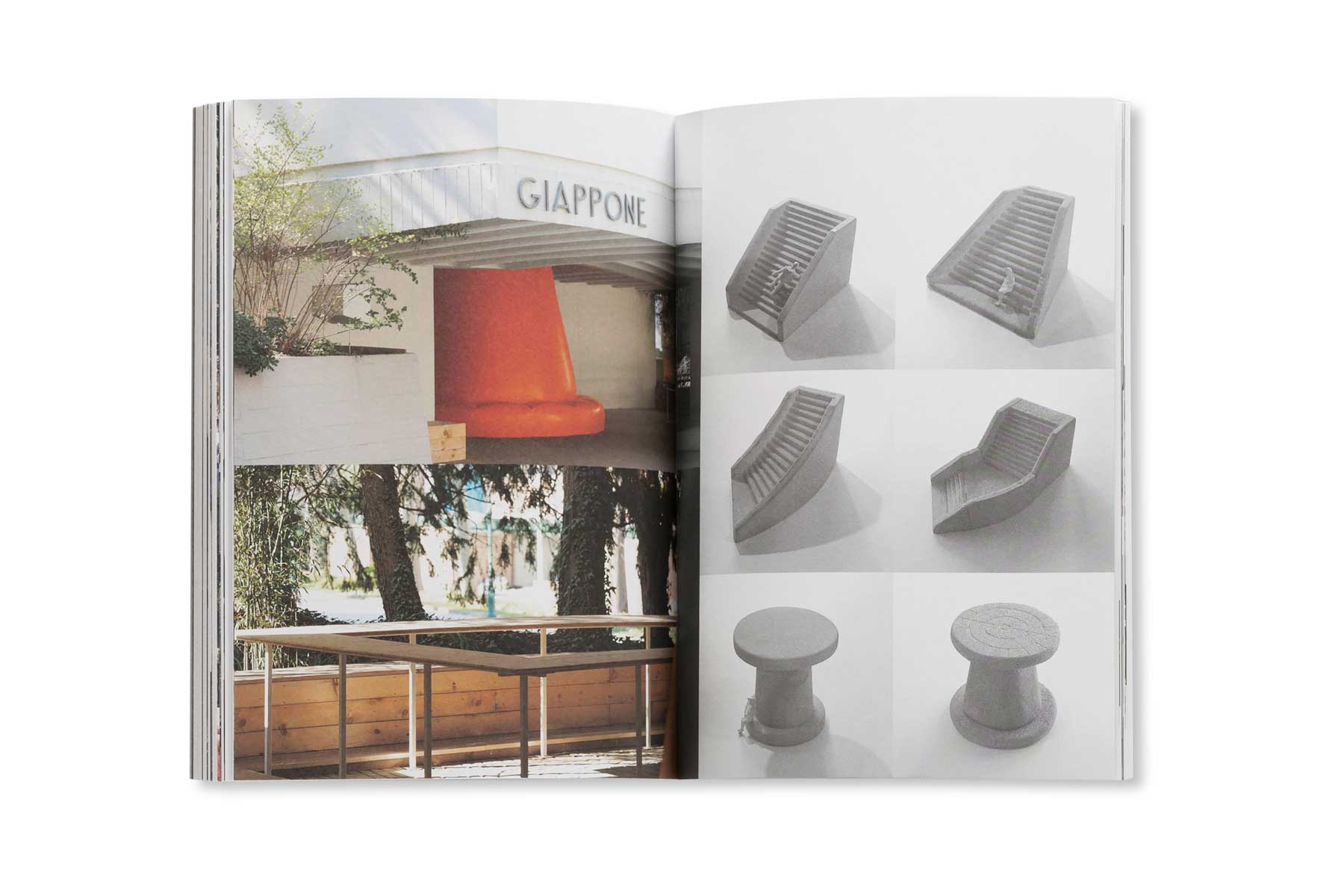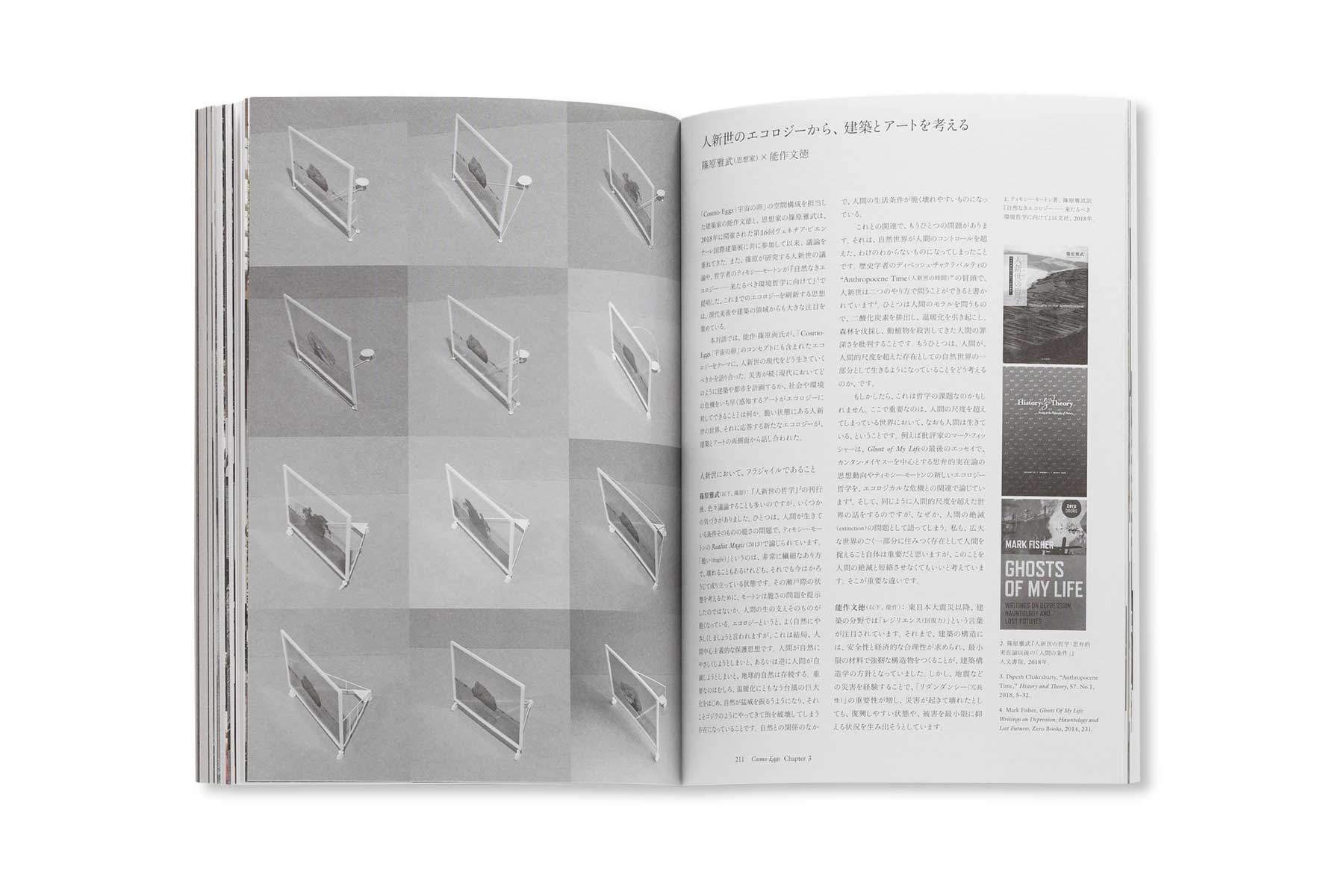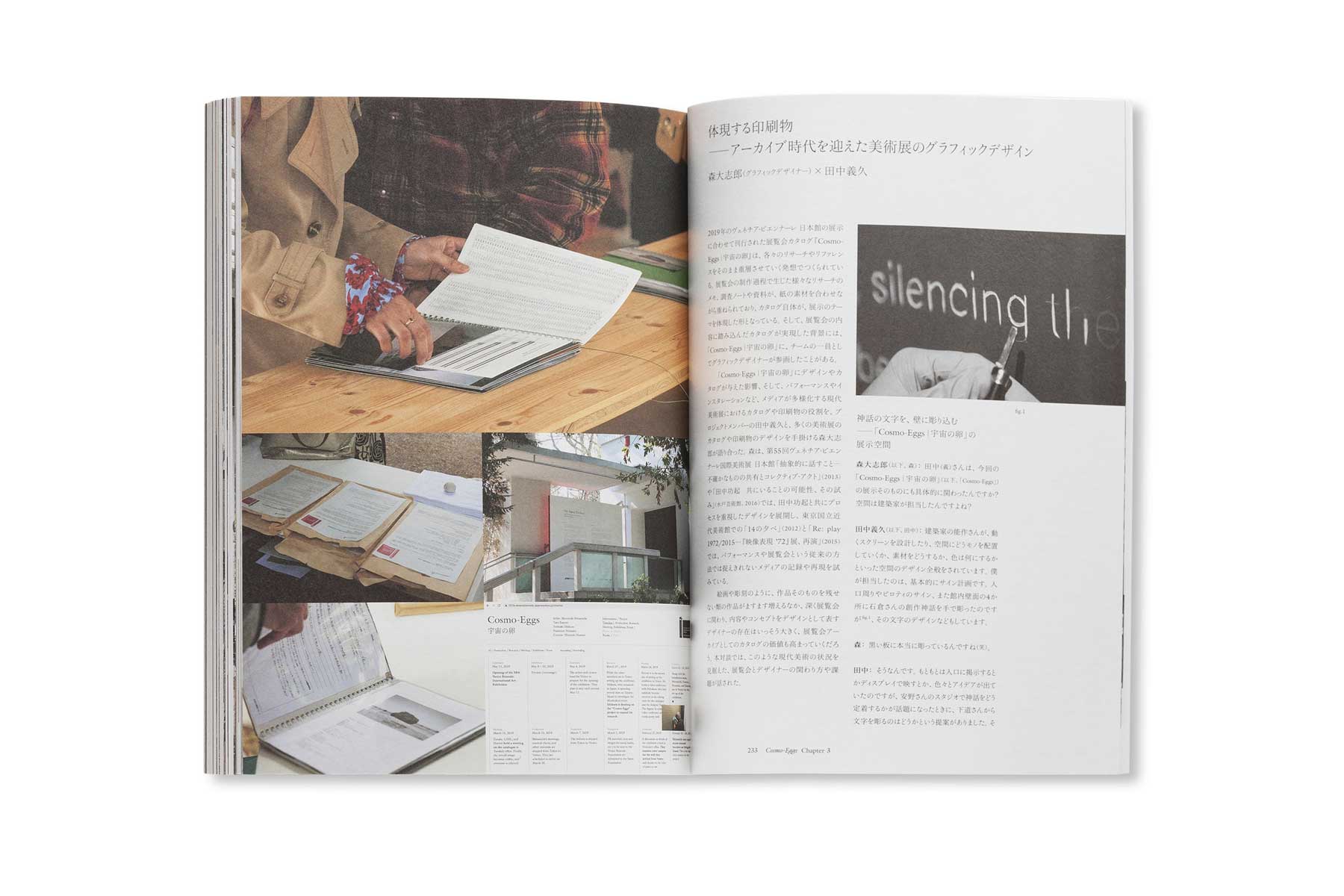 Reflections on Cosmo-Eggs at the Japan Pavilion at La Biennale di Venezia 2019
Motoyuki Shitamichi, Taro Yasuno, Toshiaki Ishikura, Fuminori Nousaku, Hiroyuki Hattori
$20.24 (+tax)
We are pleased to announce the publication of Cosmo-Eggs, released on the occasion of the Cosmo-Eggs Exhibition held at the Artizon Museum and first exhibited at the Japan Pavilion at the 58th Venice Biennale International Art Exhibition. This volume dives into careful retrospection of the exhibition's subject matter, as well as consideration on the varied contemporary issues evoked from the work contained within. These contents unfold in discussion between both the artists themselves together with a diverse group of creators.
Headed by curator Hiroyuki Hattori, "Cosmo-Eggs" is an exhibition realized by a collaboration between artists across four different fields of expertise – an artist, a composer, an anthropologist, and an architect. As a whole, their work centers around how humans, and non-humans, co-exist and live in symbiosis with one another. The amalgamation of the five artists' works – each representing different fields – is referred to as a collective here. Starting from the Tsunami Boulder series, the exhibition space resounds with numerous elements – creative myth, video works, music, balloons dedicated to evoking those sounds, and more. This catalog features not only exhibition views, interviews, and inquiries on exhibition contents, but a diary-style record of the creation process, sit-down sessions by participating artists in reflection of the exhibition, and more.
This volume similarly delves into a variety of topics currently in discussion in the realm of contemporary art. To that end, we welcome Ade Darmawan, director of the upcoming Documenta 15 planned for 2022, together with Masatake Shinohara – a thinker and philosopher touting a new wave of thought on ecology – as they delve into discussion on these topics. The essays contained within also provide narrative on various hot-topics in the realm of art. They include; approaches implementing cultural anthropological perspectives, the dividing-line between music and art, art as an intangible, temporary form, exhibitions archives, among others.
When modern-day myths come to life, what do artists think? What did they put to practice? This volume is sure to become a source of instruction; one that teaches us to live through this current age. Some tools to do so – considering the possibilities that unfurl from this single exhibition, together with the significance of this collective.
[Contents]
Chapter 1 About the Exhibition "Cosmo-Eggs"
・Cosmo-Eggs
・ Questioning Ecologies of Co-Existence through Converging Collaborative Resonances and Dissonances  Hiroyuki Hattori
・Installation view of the Japan Pavilion at the 58th International Art Exhibition – La Biennale di Venezia, "Cosmo-Eggs"
・Production process: March 2018 – April 2020
Chapter 2 A General Outline from Multiple Perspectives:
・The Portable Heterotopia: Of Permissive Sympoiesis & Coexisting Time Axes  Hiroyuki Hattori
・The Japan Pavilion at the Venice Biennale and Shojiro Ishibashi  Natsuko Tadokoro
・Finding Hope in Creative Collaborations—Looking Back at "Cosmo-Eggs" at the 58th Venice Biennale International Art Exhibition* Motoyuki Shitamichi, Taro Yasuno, Toshiaki Ishikura, Fuminori Nousaku, Hiroyuki Hattori and Yoshihisa Tanaka
Chapter 3 Detailed Commentary: Reflections on "Cosmo-Eggs"
・Art by Collectives and the Ethics that Underlay Them* Ade Darmawan interviewed by Hiroyuki Hattori
・Sceneries of Time Pluralities—The Creation Process of the Tsunami Boulder Series* Motoyuki Shitamichi
・Fieldworking with Hybrid Gatherings—Towards World-Making from Archipelagos in East Asia* Toshiaki Ishikura
・May Zombies Live in Interesting Times* Taro Yasuno
・Art and Architecture for Ecologies of the Anthropocene* Masatake Shinohara and Fuminori Nousaku
・ Printed Matter as Embodiment—Graphic Design and Contemporary Art in the Age of the Archive*
Daishiro Mori and Yoshihisa Tanaka
 
*Japanese with English summary
---
Size: 257 x 182mm / Paper Back / 248P / with Postcard
Edit: Satoko Shibahara, Nao Amino
Art Direction & Design: Yoshihisa Tanaka
Design: Yutaro Yamada
Languages: Japanese / English
Price: 2,300 yen
Publisher: torch press
ISBN: 978-4-907562-20-5 C0070
Year: 2020
Motoyuki Shitamichi
Born in 1978. Artist. Shitamichi's most notable works include the series "torii", for which he photographed temple gate remnants ("torii") from Japan's colonial era, and the "Tsunami Boulder" project, which photographically records large boulders carried onshore from the seafloor during large tsunamis.​ ​
 
Taro Yasuno
Born in 1979. Composer. Yasuno's composition and media art projects often include collaborations with other artists. His series "Zombie Music" features a multitude of recorders played automatically through machines and artificial airflow.
Toshiaki Ishikura
Born in 1974. Anthropologist and associate professor at Akita University of Art. Specialized in religion and mythology, Ishikura engages in numerous projects that connect anthropology with contemporary art, often in collaboration with artists.
Fuminori Nousaku
Born in 1982. Architect. Adding to his architectural works, Nousaku also engages in creating artworks and spatial installations. In 2016, Nousaku contributed to the Japan Pavilion at the 15th Venice Architecture Biennale, earning a Special Mention Award.
Hiroyuki Hattori
Born in 1978. Curator and associate professor at Akita University of Art. Hattori engages in projects and exhibitions with a focus on Asia. He has been the curator of the Aichi Triennale 2016 and co-curator of "Going Away Closer: Japan-Cuba Contemporary Art Exhibition" (Japan/Cuba, 2018).